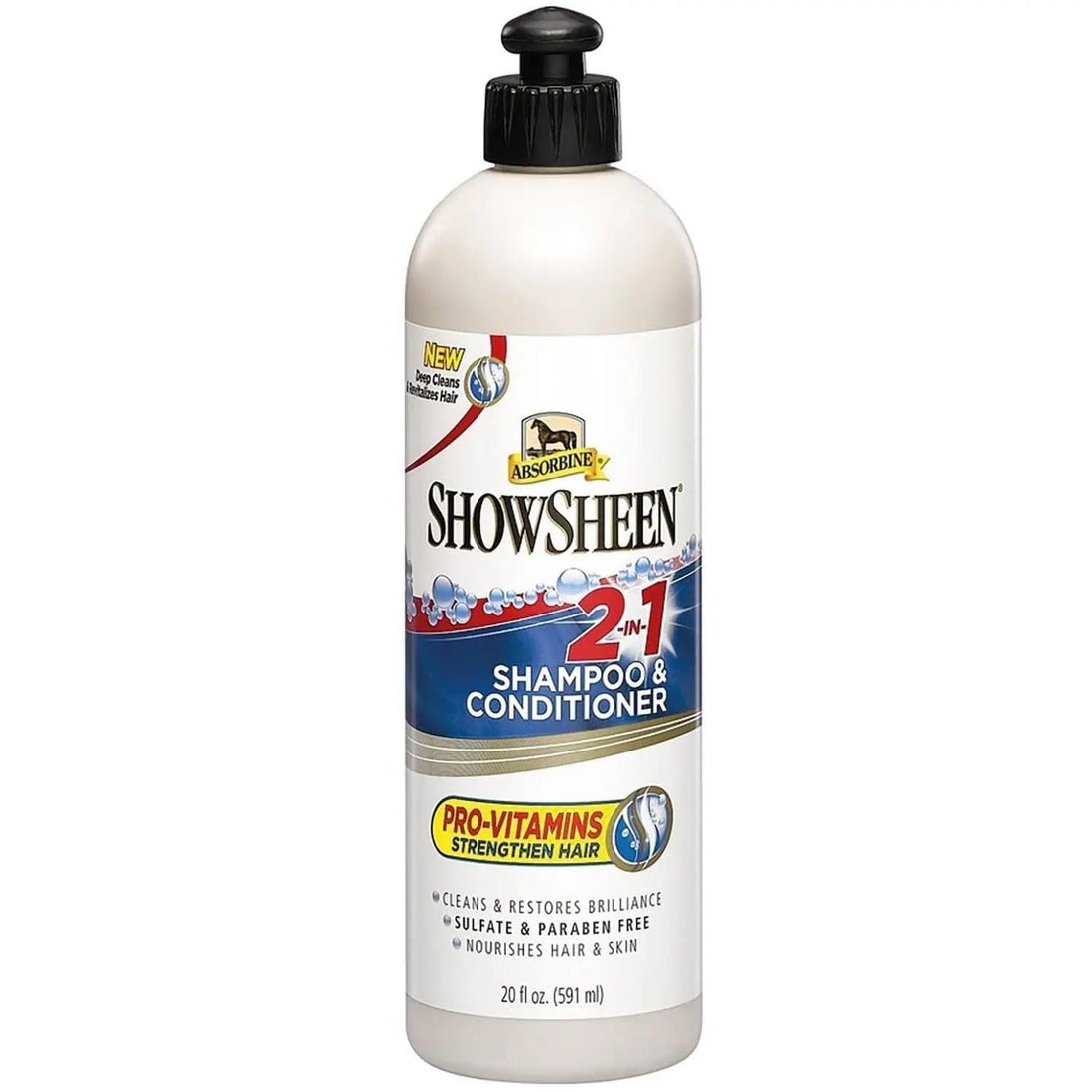 Absorbine showsheen 2 in 1 shampoo and conditioner for horses
This 2-in-1 horse shampoo and conditioner from Absorbine for horses deep cleans and conditions hair in one easy step, as the first of its kind.
It eliminates the need for a separate conditioner, and leaving the coat, mane, and tail very soft.
Moreover, it is specifically designed for the horse's sensitive skin.
The product contains pro-vitamins and conditioners that nourish the skin and coat of the horse. 
The product is also sulfate and paraben-free, so harmless to use.
It rinses out very easily, leaving no residue.
Finally, it is very easy to use with a convenient bottle size and targeted application cap, what is included.
The bottle contains 591 ML.
How do you use the product ?
Manes & Tails
Wet the hair thoroughly.
Apply enough ShowSheen 2-In-1 Shampoo & Conditioner to the hair to build a layer.
Scrub down to the base of the mane and tail with your fingers to lift out dirt embedded there.
Rinse the mane and tail completely until you do not see bubbles.
Body
Thoroughly wet one side of your horse's body with water. Please do not spray the face or get water in the ears.
Apply ShowSheen® 2-In-1 Shampoo & Conditioner directly onto a wet sponge, and scrub the horse. Or you can also pour one ounce into a gallon of water in a bucket.
Scrub the shampoo into the coat to lift dirt.
Move on to the next side and repeat until the entire body has been washed.
Rinse
Rinse the horse until all soap is gone.
Use a sweat scraper to remove excess water. If you see bubbles, than you should rinse it again.
You can apply ShowSheen® Hair Polish & Detangler to a wet horse. This will help repel dust and dirt until the next bath.
Dry your horse by toweling it off, grazing it in the sun, or walking it until it is dry.